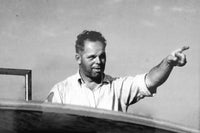 LIFE ON THE RIVER
We are a brand born from a love and respect for a river.
We are fishermen and boat dwellers.  We are artists and business people.  We are writers and dreamers and realists.  We are recreationalists and conservationists.  We are wood boat lovers and glass bottom watchers.  We are spinnaker chasers and fish chasers and dream chasers.  We believe in a river full of fish, full of potential, full of life.
We are 40 Acres Clothing Co.